This page has printable vocabulary exercises related to environmental vocabulary. Look at the worksheet and description and decide which one to print. Click on the thumbnail to print.
Environmental Printable Worksheet
Vocabulary input worksheet. Hand it out to students and pre-teach the vocabulary(pollution, deforestation, global warming). Later play a game where you call out a letter and number combination and students shout out the word. For example you say A1, students shout Trash can!.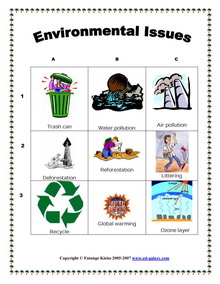 Protecting the environment- Make Slogans and taboo notices to help protect the environment.