50 ESL Powerpoint Slides- with embedded audio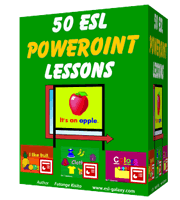 Download English powerpoint slides for teaching. This is one of the best teaching material a TEFL professional can dream of having. You will teach English lessons with minimal effort and cut down on lesson planning time, while delivering excellent, engaging and fun English lessons. We have tested these presentations in small, medium, large and even one-to-one teaching environments and they work perfect. Find out just why schools & TEFL educators are buying these ppt & pps presentations. Even if you know nothing about using powerpoint, we can do a quick video tutorial that will make you jump with excitement. And that's not all! What makes these presentations unlike the others? Our presentations have sounds effects and audio recordings embedded in them, such that they become great tools for teaching listening & speaking, reading, pronunciation, grammar and vocabulary.
PREVIEW ALL CONTENTS BEFORE YOU BUY>>>
Free Powerpoint Downloads- Try these in your Teaching & get more!!
VIEW OVER 50 ESL POWERPOINT LESSONS YOU CAN DOWNLOAD>>>
Buy all 50 ppts now for only $ 25 USD