Featured Products
Here are some of the products we offer on Download-ESL.com
ESL Kids Course Downloads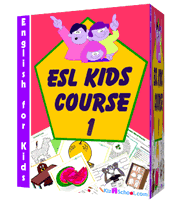 Kids Course Ebooks- Teach English to kids with professionally designed materials.Our ESL/EFL/ESOL English for Kids courseware is a hot item on most English teacher's shopping lists with good reason. Whether you are using our materials as a full time course for your school curriculum or supplementary materials for your young learners' lessons, there is something here for everyone. Take a tour of the contents and see for yourself. Over 300 exercises in this book. They include: Printables worksheets, Flashcards, Powerpoint presentations, Video presentations, mp3 audio and all the tools you need to deliver a fantastic lesson to ESL/EFL Young Learners. There is something in here for everyone.The ebook has a built-in search engine which makes it easy for you to find stuff.
ESL Grammar & Vocabulary eBooks.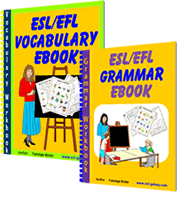 Worksheet Ebooks- Over 1000 pages of printable exercises in quality PDF. Be the star teacher or school by delivering effective lessons. Get printables and more in one bundle. Never again stress out on lesson planning. Looking for printable teaching materials? These printable worksheets will save you time. We are dedicated to making the lives of teachers a lot easier. We empower new and old teachers with fresh ideas for their lessons. There are ESL/EFL board games, grammar worksheets, vocabulary worksheets, kids worksheets, crossword and word search puzzles to teach beginners to advanced level students. »»Check this out
Powerpoint Teaching Resources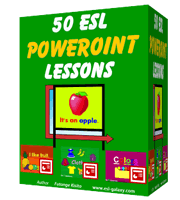 PowerPoint Downloads- For Teachers Fresh or Experienced . Teaching students with powerpoint is one of the fastest ways to help students learn. Powerpoint is usually bundled in your MS office pack. This tool helps teachers to create lessons of high appeal. With powerpoint, vocabulary is taught more vividly, thereby helping students to easily remember. We have over 65 state-of-the-art powerpoint presentations for ESL teachers. This bundle will cut down on lesson planning and reduce the stress of presenting vocabulary to students from Kindergarten to pre-intermediate levels.»»Check this out
Games: ESL Games & Templates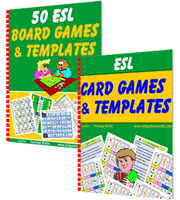 Board Games, Card Games, Powerpoint Games and Interactive games are just some of the Fun ESL and Education resources we offer. Our games help students practice Grammar, Vocabulary, Math Skills and more. We also have a number of game templates which teachers and educators can easily use to create exercises for learning.
Pronunciation: Phonetic Courseware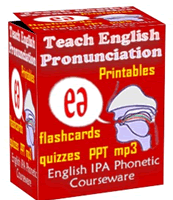 Teach English phonetic pronunciation using IPA. This course package offers a number of resources. There are mp3, worksheets, flashcards, charts, powerpoint presentations and more to make the teaching of pronunciation very easy. Tongue twisters with mp3 audio and a BBC audio chart puts in your hand the most comprehensive pronunciation course. PREVIEW CONTENT>> REMEMBER THIS IS AN EBOOK WHICH MEANS YOU PAY AND DOWNLOAD IT IMMEDIATELY.NO WAITING TIME!!!
Interactive: Vocabulary and Grammar Quizzes & Game CDs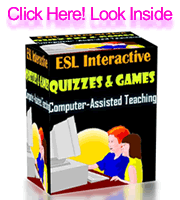 Grammar & Vocabulary Quizzes for free and commercial online self-access learning. Computers have changed the way we study by offering students a great chance toward self-study. On this site we have put together key English grammar and vocabulary quizzes for self-tutoring. Our quizzes include: multiple choice, gap fill, word puzzles with clues, spelling quizzes, matching quizzes, short answers and more. They can be used by both teachers and students in their learning and teaching of English grammar and vocabulary. To help you easily teach or study with them, we have divided the quizzes into all the stages of English learning i.e Kids, Beginner, Elementary, Pre-intermediate, Intermediate & upper-intermediate/Advanced Level Quizzes. These quizzes will give students a command of key English grammar and vocabulary. While these quizzes are absolutely free for online use, you can buy them and keep for offline browsing. »»Check this out
Download English Video slide lessons for use on ipods, PCs or laptops.These videos are lesson presentations built with powerpoint. Learn & teach new vocabulary, pronunciation, spelling and sentence structures with videos that can be used for self-tutoring or teaching in larger classrooms. Our videos are excellent tools for beginner, elementary and pre-intermediate level students. »»Check this out
Fun Games for ESL Teaching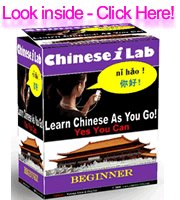 Chinese Mp3 and Audio Scripts: Download the mp3 audio and the audio transcripts. The audio are of the highest quality and very good for listening. Chinese-ilab.com offers you the resources to help you learn Chinese yourself. The audio contains useful phrases and vocabulary, clearly laid out with translations in pinyin Chinese and Chinese characters all geared towards facilitating your learning.
Chinese Video Lessons: Download our highly instructive Beginner and Elementary Video Slide Lessons for use on your ipods, iphones, PDAs and Mp4 devices. For ipod/iphone users, simply use itunes like you always do to sync them to your ipod/iphones. There are 20 communicative video lessons and 25 vocabulary video slides.