ESL/EFL EBOOK PACKS -

These are digital downloads

!!
Download Grammar/Vocab eBooks & 50 ESL Crosswords for $ 50 only
BUY NOW

- $ 50 Dollars
ESL Vocabulary E-book - An Ebook Every ESL Teacher/School Should Have.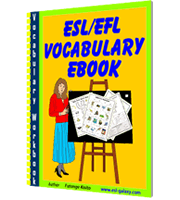 With over 500 top quality printable PDF worksheets, this ESL Vocabulary Worksheet E-book is the ultimate timesaver for busy teachers. The exercises best serve teachers of beginner, elementary, pre-intermediate and intermediate levels. There are 62 different vocabulary topics covered that take into account the most commonly taught vocabulary areas in ESL. There over 16 different types of exercises in this ebook. They include among others : i.Crossword puzzles ,ii. Word Search puzzles, iii. Text Mazes – For reading comprehension, iv. Word Scrambles or Jumble, v. Quizzes : multiple choice, true or false, vi. Gap Fill Exercises,vii. Matching Exercises, and more. The ebook has a built-in search engine which makes it easy for you to find stuff. Click on here to preview the content of this book. Download the book cover and content page to see the full range of vocabulary areas covered.REMEMBER THIS IS AN EBOOK WHICH MEANS YOU PAY AND DOWNLOAD IT IMMEDIATELY.NO WAITING TIME!!!
Buy only for $ 24 US Dollars
ESL Grammar E-book - An ESL Teacher's Grammar Teaching Companion.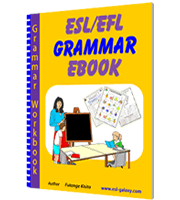 This ESL Grammar E-book features several printable grammar exercises to use in your English Grammar lessons. The exercises are carefully classified under the most popular grammar topics commonly taught. All the exercises in our e-books are developed by a team of teachers who know the realities of teaching English Grammar to foreign language learners. We have therefore only included exercises that have been used in class. The materials are mostly bought by ESL/EFL teachers of BEGINNER, ELEMENTARY, PREINTERMEDIATE & INTERMEDIATE levels.The ebook has a built-in search engine which makes it easy for you to find stuff. CLICK HERE to PREVIEW the full range of resources we empower grammar teachers with or DOWNLOAD the BOOK COVER. REMEMBER THIS IS AN EBOOK WHICH MEANS YOU PAY AND DOWNLOAD IT IMMEDIATELY.NO WAITING TIME!!!
Buy only for $ 20 US Dollars
ESL Lesson Plan E-book - GRAMMAR & VOCABULARY E-BOOK
BUY BOTH EBOOKS FOR A DISCOUNT PRICE!!! Time-Limited OFFER!!
Buy both for a discount price of $ 35 US Dollars
REMEMBER THIS IS AN EBOOK WHICH MEANS YOU PAY AND DOWNLOAD IT IMMEDIATELY.NO WAITING TIME!!!You will also be directed to a page for instant download after purchase. Equally, you will receive an email within 24 hours of payment giving you this link.
Very Best Value Grammar / Vocabulary eBooks & 50 ESL Crosswords Combined - $ 50 USD only!

50 ESL PDF Crossword Puzzles - For Beginners, Elementary to Pre-intermediate Levels.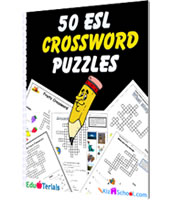 Teach and practice over 500 essential English words in 50 fun crossword puzzles. Students, especially young learners are crazy about word puzzles. Using puzzles is a good way to teach and practice new vocabulary with the spellings of the words. The puzzles are in PDF formats which makes it easy to print and use. In most of the low level puzzles, we have provided fantastic graphics to further clarify vocabulary for visual learners. You don't even need to be an experienced teacher to use these puzzles. We provide answers to every puzzle. You are therefore going to download over 100 pages of puzzles and answers. Why not try to click on the icon to take a video tour or simply download and try these samples.
Buy only for $ 20 US Dollars
English Kids Course Ebooks

Discounts!! For Kids Ebook Packs 1,23
AN EVEN BETTER DEAL HAS ARRIVED. Ebook Packs 1, 2 and 3 only $ 59 dollars.

59 USD only
Time-Limited Offer During this Recession!Get it now!
Discounts!! For Kids Ebook Packs 4,5,6
Save 18 dollars. Buy the combined Ebook Packs 4, 5 and 6 for only $ 65 dollars.

65 USD only - Time-limited offer during this recession period. Get it now!
PHONICS WORKBOOK DOWNLOAD
81 pages of Alphabet, vocabulary and handwriting practice. Best way to start teaching English. - Download samples
- 81 Pages of printable exercies- Download after purchase. - DOWNLOAD SEE FREE SAMPLES
Vowel Sounds Pack - 41 pages
Contains 41 pages of long and short vowel practice, vowel reading exercises through text mazes. Practice Beginning Vowel Sounds, Middle Vowel Sounds, Rhyming Pairs and lots more. Download the following free samples. DOWNLOAD SEE FREE SAMPLES
Consonant Sounds - 45 pages
Consonant Blends Exercises, Beginning consonants, Digraphs and Trigraphs, Ending Consonants, Board Games and more. DOWNLOAD SEE FREE SAMPLES
BUY NOW $ 29.9 USD ONLY
ESL Games Products Available!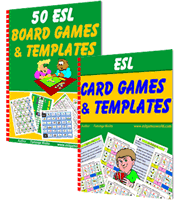 Board Games, Card Games, Powerpoint Games and Interactive games are just some of the Fun ESL and Education resources we offer. Our games help students practice Grammar, Vocabulary, Math Skills and more. We also have a number of game templates which teachers and educators can easily use to create exercises for learning.
Powerpoint Teaching Resources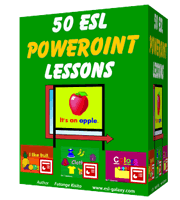 PowerPoint Downloads- For Teachers Fresh or Experienced . Teaching students with powerpoint is one of the fastest ways to help students learn. Powerpoint is usually bundled in your MS office pack. This tool helps teachers to create lessons of high appeal. With powerpoint, vocabulary is taught more vividly, thereby helping students to easily remember. We have over 65 state-of-the-art powerpoint presentations for ESL teachers. This bundle will cut down on lesson planning and reduce the stress of presenting vocabulary to students from Kindergarten to pre-intermediate levels.»»Check this out
Buy all 50 ppts now for only $ 25 USD
Math e-Book - Workbook 1
- For Pre-K, Kindergarten & 1st Grade
(100 PDF Exercises & 100 Answer Sheets)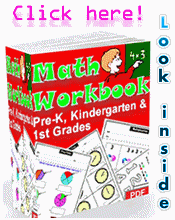 Math workbook 1 is a content-rich downloadable zip file with 100 printable exercises and 100 pages of answer sheets attached to each exercise. This product is suitable for Preschool, kindergarten and Grade 1. The product is available for instant download after purchase. Not convinced? Take a video tour by clicking on the e-book icon to your left.

TAKE A VIDEO TOUR - CLICK HERE>>
Buy Now! Only 23 US Dollars